Officials JTT Memorial Scholarship
---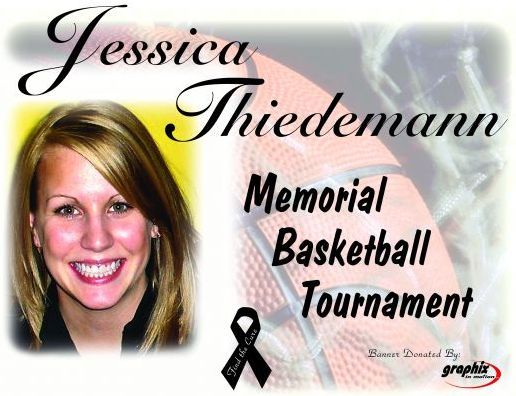 Our fall training tournament is named in loving memory of Jessica Thiedemann. Jessica was a full time university student and a hard working referee with exceptional enthusiasm, and a passion for helping young referees grow. She was dedicated to Calgary Minor Basketball and always maintained a positive attitude on and off the court. She was actively involved in training clinics, and always strived to be the best she could possibly be. These traits continue to be an inspiration to all who knew her.

In honour and memory of Jessica, her parents established a bursary to support Calgary Minor Basketball Officials. The Jessica Thiedemann Bursary is awarded to a referee in post secondary school who, in the opinion of the Referees' Leadership Committee, best exhibits the traits which Jessica displayed herself. The recipient of this bursary will be a dedicated referee who is currently enrolled in a post-secondary program, and exhibits the qualities listed below.
If you are enrolled, as of September of the current year, in a post-secondary program,
and you would like to be considered for this award, please complete and e-mail the attached scholarship application to cmba.stripes@gmail.com. The Committee will then consider all such applications, as well as others we feel are deserving of consideration, and set up interviews for the top candidates during the fall training sessions.
The specific criteria are as follows.
Education - Currently enrolled in full-time post secondary education program
Attitude - Positive attitude about the game & during the games
Clinics - Participates in training clinics
# of Games - Refs frequently. Helps out assignor when refs are in short supply
Progression - Progressing well in reffing ability
Mentor - Helps younger officials
Committee - Involved in the committee
Disposition - Enthusiastic, cheerful

Zachary Udoumoren: 2017 Recipient

Zachary is currently in his fifth year of officiating. Throughout the years he has been refereeing, he has always looked to help my peers grow as much as possible. He has demonstrated this through his participation in many different clinics, and attendance at committee meetings. He also works hard to improve his own game as an official, by attending Karen Lasuik's camp in Edmonton and Michael Weiland's camp in Calgary. These camps have helped him to grow and improve an immensely as a referee. With his current dedication to officiating his goal is to become a FIBA official and maybe even perhaps a NBA D league official! Not only a talented young official but more importantly skilled in the classroom, being on the honors list most all of the time. The future looks bright for Zach and we wish him all the best in whichever way life takes him. We look forward to Zachary coming back to CMBA and sharing the treasure trove of knowledge he has gained along the way!
Past Recipients

| | | |
| --- | --- | --- |
| Justin Bechthold: 2008 | Mitch Turgeon: 2009 | Laura Olson: 2010 |
| Dennis Ellison: 2011 | Hayley Adams: 2012 | Brittney Walchuk: 2013 |
| Adam Boyes: 2014 | Ashleigh Burge: 2015 | Sarah Lee: 2016 |