CMBA Player Spotlight: Danya Osterling
---
---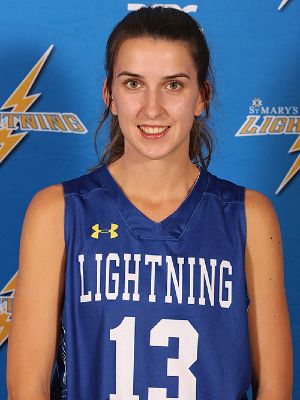 Danya Osterling
St Mary's Player Roster (2020-2021)
Past CMBA Community: Silver Springs (Calgary NW) Basketball Association
Current School: St Mary's University Lightning
Accolades: Dean's List in 2019-2020 School year, National Championship with Basketball Alberta in 2014, ACAC Gold Medal with St.Mary's in 2018, ACAC Bronze Medal with St.Mary's University in 2020.
Current Activities/Hobbies: Hiking, Skating
---
Questions with MRU Cougars player Danya Osterling:
Q: Who is your favourite basketball player?

A: Kevin Durant beacuse he is a very good overall player. He is good on the offensive and defensive end. He is a very strong defensive player which is something that I look up too because I believe my defence is my biggest strength when I play basketball.
Q: Which basketball team do you root for?
A: Raptors because they are the only Canadian Team in the NBA. My family have always been fans of the Raptors so I grew up watching and cheering them on.
Q: Who has the best basketball uniforms of any college or pro team you like?
A: Purple Retro Raptors Jersey.
Q: What is your favourite basketball movie?
A: Space Jam. I grew up watching Looney Tunes with my grandparents so combining Looney Tunes and basketball was very appealing to me. It is a super fun movie to watch as well and Michael Jordan is one of the greatest players to ever play in the NBA.
Q: What is your favourite candy?
A: Gummi Bears
Q: What is your favourite ice cream?
A: Smartie
Q: Do you have a hobby?
A: Hiking and Skiing because they allow me to enjoy the mountains in Alberta's "backyard" and it keeps me active.
Q: Do you have a favourite pregame meal?
A: Pasta
Q: What is your favourite basketball play?
A: Taking a Charge. Because I'm strong on the defensive end of the ball I believe that the strength of a defence can help boost a struggling offence and adds a tone of energy to my team.
Q: What do you love most about the game of basketball?
A: What I love most about the game of basketball is the people that you meet throughout the years and the relationships that are built by being a part of a team. Basketball is a game that requires a number of physical skills and mental skills. Practicing a play all week and then successfully running it in a game is a very satisfying accomplishment. I also love the competitive nature of the game.
Q: Do you have a favourite memory from when you played in the CMBA?
A: My favourite memory from playing in the CMBA was getting to play with all of my school friends. I am still in contact with many of my friends that I grew up playing with on the Silver Springs teams.
Q: What is the best piece of advice you received from a coach?
A: To stop overthinking on the court and play the way I know how to. To focus on my strength of defence and not force my offensive game.
Q: What is one piece of advice you would give to younger players?
A: Play multiple sports growing up if you can. The skills developed can be applied in basketball which will make you an overall better player and it will make you a more coachable player as well which is a skill that many coaches at the higher levels want in players.
Q: Being a youth coach yourself, what is one piece of advice you would give youth coaches?
A: Encourage young athletes to play multiple sports because in the long run it will make them a better player and by playing for multiple different coaches it will develop the skill of being coachable. Also encourage them to have fun, teach them the skills they need but allow them to have fun on the court and with their teammates because those are the moments that they will remember for a long time. Don't penalize a player for making a mistake, explain the mistake to them and how to improve and let them go back on the court to learn from the previous mistake.
Q: What basketball skill is your greatest strength?
A: My defence and the step through move at the basket.
Q: What was your biggest failure or adversity you have faced in the game, and how did you over come it?
A: The biggest adversity that I face in games is when my shot from outside the three isn't falling. It can be very frustrating for a player and can have an effect on their confidence on the floor. The way I overcome this adversity is by changing my game plan and looking for other opportunities on the court to lift up my confidence such as layups, steals, assists.
Q: Are you a vocal leader on the court or do you lead by example? Or both?
A: I lead by example on and off the court.
Q: How do you find positive ways to communicate with your teammates? To build team culture.
A: To build team culture I find positive ways to communicate with teammates by using constructive feedback. I like to tell them what they did really well but then offer a suggestion on how they could improve.
Q: What is something interesting about you that no one really knows?
A: Prior to playing basketball, I played Ringette and Lacrosse at high levels.
Q: What is your favourite class or subject in University?
A: History, more specifically Canadian History.
I think history is very interesting as it provides understanding on why the world is the way it is today.
Q: What are your plans after you graduate?
A: Upon graduation in the spring, I hope to continue my education at St.Mary's University in the Secondary Education Program with the goal of becoming a Junior or Senior High Social Studies teacher.
Q: How are you training during the Covid-19 pandemic to prepare for the next season?
A: I am training by remaining in good physical shape, I do this by going on hikes, running, and doing at home workouts. Another way is continuing to practice shooting with my basketball net on my driveway. Currently with the snow outside and all gyms being closed it has been tough to get in the gym or to practice shooting as much as I would have wanted.