Inside Coaching - at Coach.ca
---
---

---
The Coaching Association of Canada (CAC) educates and certifies coaches and celebrates their achievements at all levels of sport. Through its coaching education, research, and advocacy programs, the CAC promotes safety in sport, works to increase diversity and inclusion within Canada's coaching community, and strives to enhance the sport experiences of participants across the country.
https://coach.ca/?utm_source=CAC+-+Inside+Coaching&utm_campaign=33b73f20db-EMAIL_CAMPAIGN_2018_04_17_COPY_01&utm_medium=email&utm_term=0_b810808a44-33b73f20db-188904225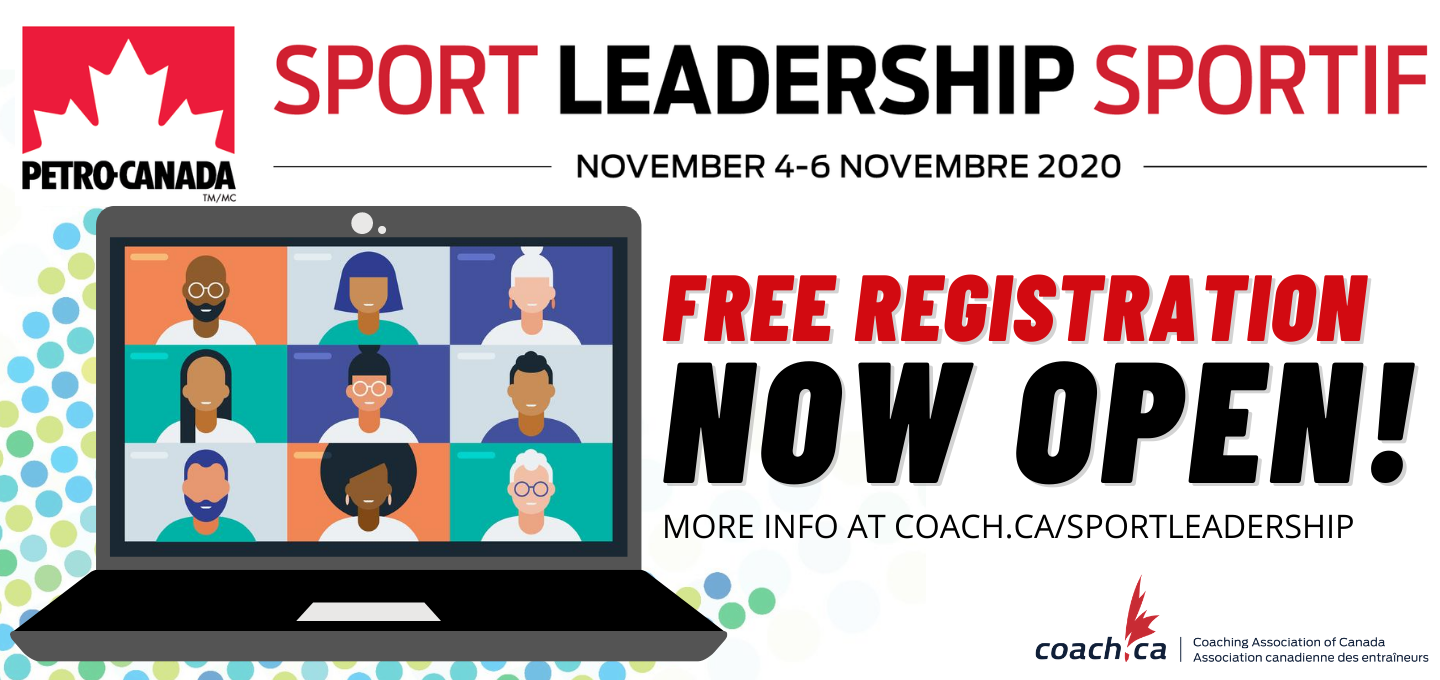 Registration for the?2020 Petro-CanadaTM Sport Leadership sportif Conference?is?now open!?New for this year, the event is free?to everyone?and will take place through a virtual environment from November 4-6, 2020.?

This year's?conference theme is?Courage by Design.?Through a series of engaging?keynote presentations and breakout sessions, delegates will be motivated to consider how intentional acts of courage, inclusivity, and resilience can shape positive change?in?Canada's?sport community.?

Confirmed speakers and topics include:?
Promoting Allyship in the Workplace, Dr. Hadiya Roderique?
Mental Health & Wellness in Times of Stress, Dr. Shimi Kang?
Promoting Positive Development in Sport, Dr. Leisha Strachan, Project SCORE?
Evaluating Sponsorship in the Current Landscape, Dr. Norm O'Reilly?
A chance at free gas for a year
Those who register before the early bird deadline (Sept. 30, 2020 at 11:59 PM) will also be entered into a draw for a chance to win free gas for a year, courtesy of Petro-Canada (Conditions and restrictions apply. No purchase necessary. Prize consists of a one-time credit of $1,914 in the form of Petro-Canada Gift Cards. See contest rules for details.)

Visit the?#SLS20?virtual event space?for updates and the full event schedule.?Be sure to register for free?now?through our website and share this link with your colleagues!?