Best in The West Coaching Conference
---
---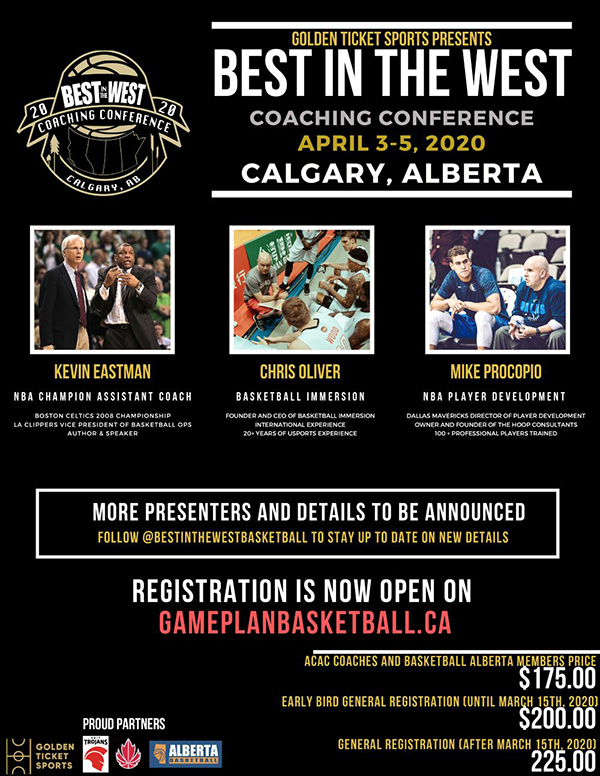 ---
Registration will be held solely on Game Plan.
Registration for Best in the West 2020 will cost:
$175 - acac COACHES AND BASKETBALL ALBERTA MEMBERS
$200 - Early Bird Registration (Until MARCH 15TH, 2020 - NON ACAC AND BA MEMBERS)
$225 - Regular Registration Fee (AFTER MARCH 15TH)
DISCOUNT CODES FOR ACAC COACHES AND BASKETBALL ALBERTA MEMBERS PLEASE EMAIL:
please do this before you register to ensure you get your discount off registration
Steps To Register
To register for Best in the West:
1) Coaches must log-in to their Game Plan (gameplanbasketball.ca) accounts. **Please note: if a coach does not have a Game Plan account, they can create an account at the following link (gameplanbasketball.ca/register.php) PLEASE CREATE A FREE ACCOUNT!
2) From there coaches can select the "Workshops" tab from the top toolbar.
3) Once you are on the workshops page, change the parameters to search for "alberta" and "2020"
4) You will then be able to click on the "Register" button attached to the Best in the West heading.